Depois das férias de verão, O
 Clube das Winx
 volta para 
Alfea
 para começar seu segundo ano. Eles se reúnem agora com uma fada nova, 
Aisha
 , que pede a ajuda delas para resgatar suas amigas
Pixies
 mantidas reféns por 
Lord Darkar
 .Lord Darkar é na verdade a "Fênix das Sombras" que quer tomar o controle do reino mágico. A fim de fazer isso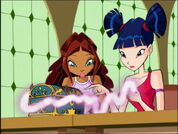 , ele tem que descobrir onde está a 
Aldeia das Pixies
 a fim de roubar os quatro pedaços do 
Codex
 que abrem o portal para o Reino de 
Realix
 , onde o Poder Final pode ser encontrado. 
As Trix
 também atendem a Lord Darkar e o serve.Enquanto isso, o Clube das Winx aprende como obter o seu 
Charmix
 . Um "novo 
professor
 "chega a Alfea e transforma Bloom na Bloom Sombria para servir a Lord Darkar. Com a ajuda da Bloom Sombria, Lord Darkar abre o portal para o Reino de Realix. Tudo parece perdido. No último momento, 
Sky
 confessa os seus verdadeiros sentimentos para com Bloom, que faz a Bloom Sombria voltar ao seu estado normal. Bloom então cura todos e derrota Lord Darkar. Após a batalha, Bloom e os outros voltam a 
Alfea
 e comemoram. Aisha também se junta ao Clube das Winx, enquanto 
Stella
 tem um grande desfile de moda acontecendo.
Episódios
Edit
Especiais
Edit
Ad blocker interference detected!
Wikia is a free-to-use site that makes money from advertising. We have a modified experience for viewers using ad blockers

Wikia is not accessible if you've made further modifications. Remove the custom ad blocker rule(s) and the page will load as expected.