Esta é a terceira temporada do Clube das Winx.
O Clube das Winx começa seu terceiro ano em Alfea e as meninas ouvem falar sobre Valtor, o novo vilão da 3ª temporada. Ele é um mago maligno tentando destruir as Winx e conquistar Magix com a ajuda das Trix. Também a coisa mais chocante da 3ª temporada é que eles recebem uma nova transformação, Enchantix. Com o Enchantix, as estrelas d'água e o pó de fadas, elas são capazes de destruir Valtor.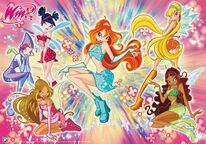 Episódios
Edit
(Nota: A Nickelodeon re-estreou esta temporada na América, então uma nova adaptação foi necessária de acordo com a sua dublação.)
Ad blocker interference detected!
Wikia is a free-to-use site that makes money from advertising. We have a modified experience for viewers using ad blockers

Wikia is not accessible if you've made further modifications. Remove the custom ad blocker rule(s) and the page will load as expected.