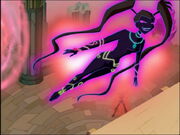 As Bruxas Gloomix são um elemento da trama
Aparência
Edit
O Gloomix toma a forma de um colar ou pulseira brilhante com uma única jóia na extremidade. As Trix recebem o Gloomix de Lord Darkar , e os usa. Até agora, as bruxas conhecidas apenas para ganhar este são Icy , Darcy e Stormy .
No final da 2ª temporada, quando Darkar trai a Trix e os envia para o Oblivion , se fundem na Mega Trix e mais três Gloomix pode ser visto sobre elas: a zona amarela e duas pulseiras de pernas verdes.
Gloomix é a versão bruxa de Charmix , dada a eles por Lord Darkar para que uma bruxa se torne mais poderosa. No entanto, enquanto as Fadas obtèm sua Charmix naturalmente como o segundo nível de seu progresso mágico, não tem sido precisado  outras bruxas também poder ter um Gloomix ou se só o Senhor Darkar pode dar um a uma bruxa.
Após a derrota Darkar (possivelmente dentro de uma semana, já que a festa de fim de ano ocorreu no último episódio da 2ª Temporada , e as Winx já estavam de malas para as férias no primeiro episódio da 3ª Temporada ), as Trix foram capturadas em Realix pelas autoridades de Magix e enviado para a Dimensão Omega , e o Gloomix tinha desaparecido completamente, talvez Lord Darkar, que os criou, tinha sido destruído.
Gloomix vem da palavra Gloom, que significa escuridão, escuro ou obscuridade.
Ad blocker interference detected!
Wikia is a free-to-use site that makes money from advertising. We have a modified experience for viewers using ad blockers

Wikia is not accessible if you've made further modifications. Remove the custom ad blocker rule(s) and the page will load as expected.