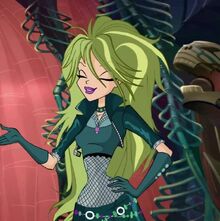 Selina é uma personagem feminina que aparece apenas na 6 temporada da série até agora. Ela foi amiga de infância de Bloom, e ex-aluna da fada madrinha Eldora.
História
Edit
Selina e Bloom eram amigas de infância e brincavam em um jardim em Gardênia, onde vivia também uma fada madrinha chamada Eldora. As duas garotas queriam ser fadas também, assim como ela. Então, Eldora imaginava que Selina precisaria de um acompanhamento especial e a convidou para ser sua aluna. Lá, ela lhe mostrou um livro chamado de Legendarium, que liberta seres de histórias. Até que um dia, quando estava sozinha, Selina ouviu uma voz do Legendarium e de lá uma pessoa falou e se apresentou como Acheron. Ele disse que estava preso naquele livro, e se fosse libertado, daria muito poder a ela. Influenciada, Selina aceitou a proposta, pegou o livro do Legendarium e foi embora.
Aparência
Edit
Selina tem cabelos loiros escuros e sua roupa é completamente preta.
Ad blocker interference detected!
Wikia is a free-to-use site that makes money from advertising. We have a modified experience for viewers using ad blockers

Wikia is not accessible if you've made further modifications. Remove the custom ad blocker rule(s) and the page will load as expected.